Welcome to The Pharmacist Apothecary Boutique
Experience the ultimate in wellness and self-indulgence with our handpicked collection
of professional supplements, fragrances, skincare, and gift items.
iCell Water by nuBioAge
iCell is a unique supplement made up of specific amino acids and creatine designed to help modulate cellular volume. It's a revolutionary way to bring water into the cell which will improve muscle strength and performance.
Purchase Now
Subscribe & Save on Select Professional Supplements available
Who We Are
We are a full service pharmacy with a modern-style boutique apothecary. We have been serving Lake County since 1991 and just recently moved into our new building in 2018. We hope that the character in which we choose to practice pharmacy earns the trust of our patient's and other healthcare professionals.  We believe when patients, pharmacists and practitioners work as a team grounded in trust and open communication we give patients the greatest opportunity to achieve the highest quality health and wellness.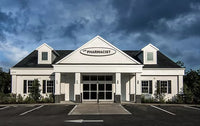 Location
OUR STORE
32713 CR 473 
Leesburg, FL. 34788
Mon - Fri: 9am - 5:30pm
Saturday: 9am - 12pm
Sunday: Closed