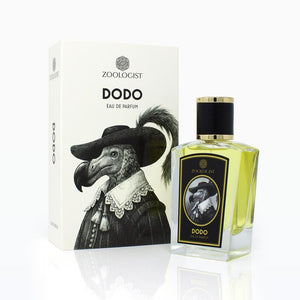 The sun sparkled across rippling waves, its morning dance upon the Indian Ocean rousing the dodos from their carefree slumber. Stumbling drunkenly across the forest floor they feasted on overripe fruit where it lay, dropped for them by the lush island paradise that nurtured them. For generations, the predator-free and bountiful shores lulled them into such a state of complacency that their wings grew idle, and flight was lost – even to memory. Ultimately evolution would betray them, but while it lasted, the dodos enjoyed an existence marked by ease and comfort.
In Zoologist Dodo, fragrant herbs and ferns are spiked with an invigorating splash of bergamot, juicy pineapple and blackcurrant, before the fruity aroma stumbles into a more traditional fougère. Spices frolic among notes of lavender, tonka and oakmoss, and settle down with beautiful woody undertones of oak. Dodo is a paradox. Like those extinct inhabitants of Mauritius, the scent is at once classic but fun, unknowable but impossibly unforgettable. The ideal perfume for those with an eclectic sensibility who crave a life of leisure and contentment.
Perfumer: Yves Cassar
Size: 60 mL / 2 fl. oz.
Parfum Concentration: 23%
Top Notes: Bergamot, Petitgrain, Pink Pepper, Rosemary
Middle Notes: Cardamom, Pineapple, Clary Sage, Black Currant Absolute
Base Notes: Basil, Lavender, Geranium, Cumin, Patchouli, Oakwood, Lavandin, Oakmoss Absolute, Tonka, Musk*
*Synthetic notes. Zoologist Dodo does not use animal products.