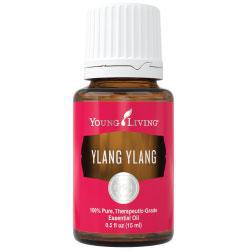 Steam distilled from flowers of trees grown in Ecuador and Madagascar, Ylang Ylang essential oil has a sweet, romantic aroma and moisturizing properties, making it a key ingredient in many luxury skin and hair products. Ylang Ylang is often classified as a heart note because it emerges just as the top notes begin to dissipate. Add it to your daily moisturizer, a steamy bath, or homemade hair mask for a relaxing, luxuriously aromatic at-home spa day.
FEATURES & BENEFITS
Has a pleasant, floral aroma
Helps create a calming environment
Can help moisturize skin
Enhances the appearance of healthy-looking skin
Nourishes the hair and scalp
KEY CONSTITUENTS
Germacrene D
(E,E)-alpha-farnesene
Benzyl acetate
Geranyl acetate
Beta-caryophyllene
Benzyl benzoate
Linalool
Para-cresyl methyl ether
Methyl benzoate
Benzyl salicylate
Suggested Uses
APPLICATIONS
Rub Ylang Ylang on your wrists and neck to leave a calming, floral fragrance you can enjoy throughout the day.
Add it to your lotion or a noncomedogenic carrier oil to enjoy its moisturizing properties.
Mix 1–3 drops with coconut oil for a deep-conditioning hair treatment that will leave hair smelling sweet and floral.
Add it to a hot bath to create a relaxing atmosphere to help you unwind after a long day.
WHERE TO DIFFUSE
Keep romance alive in your bedroom with this warm, floral scent.
Fill your home with feelings of safety and comfort when you infuse it with the depth and sweetness of this tropical aroma.
EXPERIENCE
Ylang Ylang essential oil has a romantic, floral scent that can create a calming environment when diffused. It also makes a great addition to skin care products because of its moisturizing properties.
DIRECTIONS
Topical: Apply 2–4 drops directly to desired area. Dilution not required, except for the most sensitive skin. Use as needed.
Aromatic: Diffuse up to 1 hour 3 times daily.