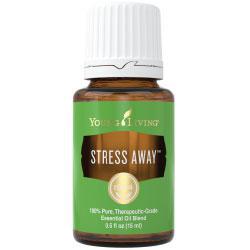 Stress Away™ essential oil blend contains a unique combination of Lime essential oil and vanilla extract. It's this distinct mix of vanilla and Lime that gives Stress Away its unique and pleasant aroma, among other benefits. Stress Away also includes Copaiba, which has a history of beneficial properties in topical application; Lavender, with its refreshing and calming scent; and Cedarwood, which features the powerful plant constituent cedrol. These ingredients are expertly blended with the exotic scent of Ocotea, a unique Ecuador-sourced essential oil.
FEATURES & BENEFITS
Includes the naturally occurring constituents beta-caryophyllene, alpha-humulene, limonene, cedrol, and linalool
Topical
Can be applied topically and used as a personal fragrance
Aromatic
Formulated with Lime, Lavender, Cedarwood, and other pure essential oils for a well-rounded and relaxing aroma
Promotes relaxation and a calming environment
Has an inviting aroma that helps calm the mind
AROMATIC PROFILE
From the bottle: Sweet, citrus, tropical aroma
Suggested Uses
APPLICATIONS
Topical
Rub R.C. on your chest and the back of your neck before an early morning workout to promote the sensation of deeper breathing.
Use R.C. with V-6 Vegetable Oil Complex for a foot or back massage after your gym routine, outdoor adventure, or yoga practice to enjoy a refreshing scent.
Brighten your outlook during early morning errands by applying R.C. to your chest and wrists.
Apply R.C. topically with V-6 oil to your chest in the evenings for a refreshing respiratory experience.
Aromatic
Add a few drops to a hot bath or shower. The warm water will calm and soothe you, and the oil will diffuse with the steam for an invigorating and empowering experience.
WHERE TO DIFFUSE
Turn your home into a vanilla-scented oasis of peace, away from the bustle of the world outside.
Fill your work space with a sweet, calming aroma that will encourage you to breathe deeply and relax.
Surround your children with a peaceful aroma to help them settle down for a restful evening.
Accompany your car or airplane travels with a peaceful, tropical aroma as you prepare for your next great adventure.
Wrap your bedroom in comfort and calm as you prepare for your nighttime routine.
Encourage deep, serene thought in your classroom or study space.
EXPERIENCE
A tropical blend of Lime, Vanilla, Copaiba, and more, Stress Away's sweet citrus scent helps you step away from the many tasks that fill your day to momentarily unwind and relax in a personal oasis. 
DIRECTIONS
Topical: Shake well and apply generously on wrists or back of neck as desired.