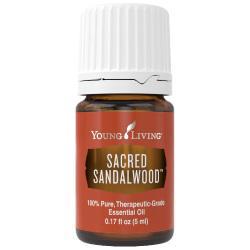 This sandalwood variety is native to India and is steam distilled at our partner farm in Australia's tropical northern outback to ensure its authenticity and purity. Sacred Sandalwood essential oil provides an uplifting, warm, woodsy, and sweet aroma, while offering a variety of skin benefits.
FEATURES & BENEFITS
Topical
Supports the appearance of healthy-looking skin
Enhances your favorite skin and hair products
Aromatic
Has a warm, woodsy, sweet aroma
Inspires passion and promotes feelings of confidence and clarity during yoga or meditation
AROMATIC PROFILE
From the bottle: Soft, woody aroma
KEY CONSTITUENTS
Alpha-santalol
Beta-santalol
Suggested Uses
APPLICATIONS
Topical
Add 1–2 drops to your daily moisturizer to promote radiant-looking skin.
Mix 2–3 drops with V-6™ Vegetable Oil Complex for a relaxing massage.
Apply over your heart or on your wrists to enjoy a warm, sultry aroma.
Aromatic
Diffuse during meditation to promote feelings of spirituality.
WHERE TO DIFFUSE
Transform your morning routine into an elegant spa experience by surrounding yourself with the sophisticated depth of this perfumer-loved fragrance.
Roll out your yoga mat and elevate your practice with this sweet, earthy scent.
Welcome friends and family to your home by infusing your entryway with this warm and woodsy aroma.
EXPERIENCE
Sandalwood is a recognizable base note in many perfumes and fragrances. Its distinctly warm and woodsy aroma is the perfect complement to pampering spa treatments, relaxation time, yoga, and meditation. It can also help enhance the natural radiance of healthy-looking skin and reduce the appearance of fine lines and puffiness.
DIFFUSER BLENDS
Sydney, Australia
4 drops Eucalyptus Radiata
2 drops Sacred Sandalwood
2 drops Blue Cypress
2 drops Geranium
Vitamin Sea
5 drops Sacred Sandalwood
3 drops Lime
2 drops Lemon Myrtle
2 drops Orange
Hawaiian Sunrise
3 drops Sacred Sandalwood
2 drops Lime
CAUTIONS: Keep out of reach of children. If you are pregnant, nursing, taking medication, or have a medical condition, consult a health professional prior to use.