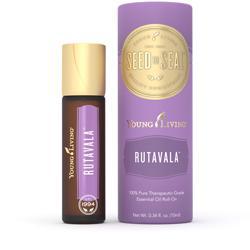 RutaVaLa Essential Oil Roll-On utilizes a proprietary blend of Ruta, Lavender, and Valerian essential oils. Although Lavender and Valerian essential oils are well known, the Young Living RutaVaLa oil blend includes the less well known—yet still effective—Ruta oil. The Ruta graveolens herb is farmed, harvested, and distilled at Young Living's Ecuador farm. RutaVaLa oil is formulated to create a refreshing aroma that can be quickly and conveniently applied as a fragrant scent to your wrists, neck, or temples.
RutaVaLa Essential Oil Roll-On Uses
Apply RutaVaLa to your wrists and heart to enjoy its soothing aroma that creates a feeling of emotional balance.
For a calming aroma after work, roll RutaVaLa on the back of your neck.
Roll RutaVaLa on the bottoms of your feet during your evening routine for a relaxing scent.
Apply to the back of your neck during hectic times and follow with a soothing neck massage with V-6™ Vegetable Oil Complex.