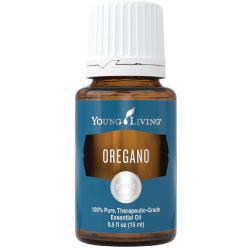 As an herb, oregano shines in Italian and Mediterranean cuisine; but as an essential oil, it has a wealth of benefits and uses outside the kitchen. Oregano essential oil's warm, herbaceous scent is excellent at purifying the air when diffused with oils such as Peppermint. It also pairs especially well when combined with V-6™ Vegetable Oil Complex and used in massage. That's why you can find Oregano in Ortho Sport® Massage Oil and Young Living's proprietary Raindrop Technique®.
FEATURES & BENEFITS
Has a warm, herbaceous scent
Great for massage, especially on fatigued areas after activity
Includes the naturally occurring constituents carvacrol, beta-caryophyllene, and thymol
Helps purify the air when diffused
AROMATIC PROFILE
From the bottle: Strong, spicy, herbaceous aroma
KEY CONSTITUENTS
Carvacrol
Gamma-terpinene
Para-cymene
Beta-caryophyllene
Thymol
Suggested Uses
APPLICATIONS
Diffuse Oregano at home to create a comforting environment.
Add Oregano to V-6™ Vegetable Oil Complex and massage into fatigued muscles after activity.
Use it as part of the Raindrop Technique.
Diffuse it with Peppermint throughout your work space to help purify strong odors.
WHERE TO DIFFUSE
Transport yourself to the Italian countryside and breathe in the herbaceous aroma of oregano fields without ever leaving the comfort of your kitchen.
EXPERIENCE
Oregano essential oil has a warm, herbaceous scent that can help purify the air when diffused with other essential oils such as Peppermint. It can also be added to V-6 for massaging fatigued areas after activity.
DIRECTIONS
Topical: Dilute 1 drop with 4 drops of V-6 or olive oil. Test on a small area of skin on the underside of your arm and apply to desired area as needed.
Aromatic: Diffuse up to 10 minutes 3 times daily.