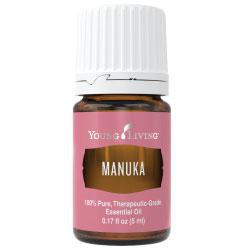 With a warm, gentle fragrance and numerous skin care benefits, Manuka essential oil is the perfect addition to your daily wellness and beauty regimen. Add it to your favorite skin care products to support the appearance of healthy-looking skin and reduce the appearance of blemishes when applied topically. You can also enjoy its sweet aroma by diffusing it, adding it to household cleaners, and massaging it into tired feet. Manuka includes the naturally occurring constituents leptospermone, copaene, and isoleptopsermone.
FEATURES & BENEFITS
Topical
Is cleansing and soothing when applied topically
May help reduce the appearance of blemishes
Supports the appearance of heathy-looking skin
Can be applied to feet or toenails to keep them looking healthy
Aromatic
Has a warm, calming aroma
AROMATIC PROFILE
From the bottle: Sweet, woodsy, Tea Tree-like aroma
Suggested Uses
APPLICATIONS
Topical
Apply a few drops to your scalp before shampooing your hair for an invigorating scalp massage.
Add it to your favorite face wash to help reduce the appearance of blemishes.
Add it to your favorite skin care products to help your skin stay bright and healthy looking.
Place a few drops in a foot bath for a relaxing, spa-like experience and to help the appearance of healthy feet and toenails.
Aromatic
Diffuse Manuka alone or combine it with a citrus oil such as Tangerine, Orange, or Grapefruit for a refreshing aromatic experience.
WHERE TO DIFFUSE
Refresh your cooking space after a night full of culinary adventures.
Create a personal spa in a steam-filled bathroom by combining with Grapefruit essential oil.
Enliven your morning reading in the living room with open windows and this sweet, herbaceous scent.
EXPERIENCE
Manuka has a soft and earthy aroma that can uplift spirits and help awaken feelings of confidence and clarity.
DIRECTIONS
Topical: Apply 2–4 drops directly to desired area. Dilution is not required, except for the most sensitive skin. Use as needed.
Aromatic: Diffuse up to 1 hour 3 times daily.