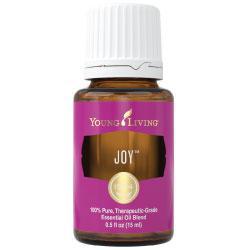 Create an environment of romance and warmth with Joy™ essential oil blend. With its combination of floral and citrus essential oils, including Ylang Ylang, Geranium, Jasmine, Palmarosa, Rose, Bergamot, Lemon, and Tangerine, this unique and feminine fragrance is sure to be a favorite. Diffuse Joy around the house for an environment that is pleasant and inviting or dab it on your neck and wrists for a natural floral perfume. This essential oil blend invites togetherness and is used adoringly by members all around the world.
FEATURES & BENEFITS
Produces an aroma that brings joy to the heart, mind, and soul
Supplies an uplifting aroma that can be enjoyed alone or combined with any YL personal care product
Contains Ylang Ylang essential oil, which inspires a romantic aromatic atmosphere
Creates a joyful and happy aromatic experience when applied to wrists or heart
AROMATIC PROFILE
From the bottle: Warm, sweet, floral aroma

Suggested Uses

APPLICATIONS

Apply Joy to your wrists and the back of your neck before going out for a fresh and natural floral perfume.
Place 2–3 drops on a damp cloth and throw it in the dryer to help freshen your laundry.
Put a few drops in a warm bath for a spa-like experience and a blissful, relaxing aroma.
Diffuse Joy to create an atmosphere of happiness throughout your home during family gatherings and celebrations.

WHERE TO DIFFUSE

Elevate game night at home with the warm, uplifting aroma.
Transform your bedroom into a welcoming, floral-infused retreat.
Brighten dull desk work or your midday slump at the office.
Treat yourself to a steamy shower filled with comforting and enlivening floral-citrus notes.

EXPERIENCE

Joy essential oil blend has an inspiring floral scent that can create a comforting environment when diffused and a pleasant aroma when applied with skin care products. 

DIRECTIONS

Topical: Apply 2–4 drops directly to desired area. Dilution not required, except for the most sensitive skin. Use as needed. 
Aromatic: Diffuse up to 1 hour 3 times daily. 

CAUTIONS: Keep out of reach of children. For external use only. Keep away from eyes and mucous membranes. If you are pregnant, nursing, taking medication, or have a medical condition, consult a health professional prior to use. Avoid direct sunlight or UV rays for up to 12 hours after applying product.