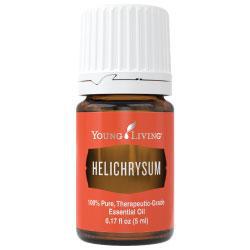 Helichrysum essential oil's sweet, earthy aroma is perfect to diffuse when you work on your next project; the invigorating scent helps create a stimulating, refreshed environment. Steam distilled from the tiniest of flowers, the delicate blossoms produce a rich oil with a complex profile, featuring the naturally occurring constituents neryl acetate, gamma curcumene, and alpha-pinene. These tiny flowers pack a punch, aromatically and topically, as Helichrysum oil provides many benefits for the skin, including reducing the appearance of fine lines and wrinkles.
FEATURES & BENEFITS
Has a warm, comforting scent
Can be used in post-workout massage
Has an inspiring aroma
Has cleansing properties
AROMATIC PROFILE
From the bottle: Sweet, herbaceous, honey-like aroma
KEY CONSTITUENTS
Neryl acetate
Gamma-curcumene
Alpha-pinene
Beta-caryophyllene
Beta-selinene
Suggested Uses
APPLICATIONS
Add Helichrysum to your daily skin care regimen to enhance the appearance of skin.
Diffuse the inspiring aroma during work or study.
Use Helichrysum's cleansing benefits by adding a couple drops to your nighttime facial cleanser.
Mix 1–2 drops with V-6™ Vegetable Oil Complex and use in a relaxing massage.
WHERE TO DIFFUSE
Bathe the air in this earthy, grounding aroma during your morning skin care routine.
Encourage a sense of calm and focus by welcoming the sweet scent into your study during homework sessions and while working on creative projects.
Fill your living room with the clarifying fragrance during times of rest and quiet contemplation.
EXPERIENCE
Helichrysum essential oil has a warm, earthy, sweet aroma that can help create an inspiring experience when diffused. Its cleansing properties can be beneficial when applied topically, smoothing the appearance of uneven skin.
DIRECTIONS
Topical: Apply 2–4 drops directly to desired area. Dilution not required, except for the most sensitive skin. Use as needed.
Aromatic: Diffuse up to 1 hour 3 times daily.