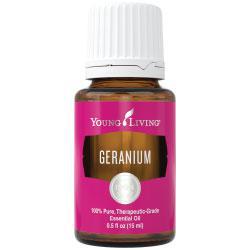 Geranium essential oil was used by the Egyptians to promote beautiful, radiant-looking skin when applied topically. Today this potent oil is often used in high-end perfumes and skin care products. Cultivated from the fragrant flower native to South Africa and obtained through a careful distillation process, Geranium's sweet, floral scent can be used topically and aromatically. Add Geranium to lotion, body wash, and hair care to enhance the aroma of your personal care products. Because Geranium oil has versatile benefits, you can also diffuse it to invite a peaceful, spiritual feeling in your living room or meditative space.
FEATURES & BENEFITS
Topical
May help maintain the appearance of healthy, youthful-looking skin
Helps promote healthy, radiant-looking hair
May help cleanse the skin
Aromatic
Has a sweet, floral fragrance
AROMATIC PROFILE
From the bottle: Floral and herbaceous
KEY CONSTITUENTS
Citronellol
Geraniol
Citronellyl formate
Linalol
Suggested Uses
APPLICATIONS
Topical
Add Geranium to a neutral skin moisturizer and apply it morning and night to enhance the appearance of healthy-looking skin.
Add Geranium to your skin regimen to help cleanse your skin.
Mix it with your favorite Young Living shampoo to help promote healthy, radiant-looking hair.
Aromatic
Diffuse Geranium in your home or office for a pleasant, uplifting aroma.
Combine it with oils like Lavender and Ylang Ylang to blend in a hot bath. The aromatic blend of floral and sweet smells creates a peaceful, private getaway.
WHERE TO DIFFUSE
Get creative juices flowing by filling your office or study with this pleasant, uplifting aroma.
Bring the family together by accenting the air in the den or kitchen with its sweet fragrance.
Make your bedroom bloom with the romantic scents of Geranium, Lavender, and Jasmine.
EXPERIENCE
Geranium oil's sweet, floral aroma can be diffused in intimate settings to create a memorable, warming environment for you and your family.
DIRECTIONS
Topical: Apply 2–4 drops directly to desired area. Dilution not required, except for the most sensitive skin.
Aromatic: Diffuse up to 1 hour 3 times daily.
CAUTIONS: Keep out of reach of children. For external use only. Keep away from eyes and mucous membranes. If you are pregnant, nursing, taking medication, or have a medical condition, consult a health professional prior to use