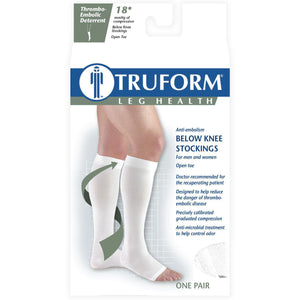 Truform 0808 (from the "Classic Medical" series) for both men and women use graduated compression technology to restore leg health. A higher compression rating targeted at the ankle, helps circulation during post hospital recovery. Anti-embolism, commonly referred to as "TED" hose (short for thromboembolism-deterrent) are a preferred choice for recuperating patient.



18 mmHg compression rating targeted at the ankle (designed for reclined recuperation, post surgery, or bed confinement)
Closed Toe
Defined heal pocket and soft non-constricting top band for comfort, durability, and fit
Knit with: 89% nylon / 11% spandex
5 intervals of therapeutic graduated compression
Anti-microbial treatment integrated into the garment
Doctor-recommended to help reduce the danger of thromboembolic disease
Made in the USA by Truform® (model 8808)

Nylon, Spandex

Made in US

Therapeutic graduated compression, 18 mmHg targeted at the ankle

Non-constricting, soft stay-up top for comfort

Closed toe design for comfortable ambulation

Standard and "super sizes"

Fit by ankle and calf circumference, and by leg length from heel at floor to bend in knee

Measure your legs first thing in the morning when swelling is at a minimum. Measure ankle circumference at smallest point directly above ankle bone. Then, measure calf circumference at largest point (widest flare of calf muscle). Measure the length of you leg from heel at the floor to the bend in the knee. Use the size chart image as a reference.