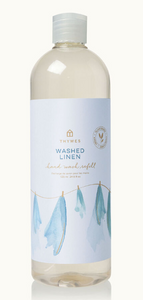 Economical reill for the Washed Linen Hand wash.
Refreshing notes of fresh cedar wood, calming lavender and white pepper are rounded out with an intriguing touch of grapefruit, orange flower and amber.
Ensure the delicate, breezy but woody fragrance of Washed Linen Is always on hand. This hand wash formula deeply cleanses without drying out skin.