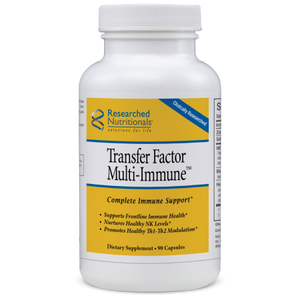 Transfer Factor Multi-Immune™ provides an advanced, comprehensive immune support formula, promoting healthy natural killer cells, macrophages, T-cells, and cell division. Product may be used as a daily-use supplement to promote and maintain healthy natural killer cell function as well as providing additional support to the immune system during acute health challenges.
Clinically researched Transfer Factor Multi-Immune™ is a comprehensive immune support formula comprising a proprietary, researched blend of transfer factor, whole colostrum, beta-glucan, and additional immune-supporting ingredients.*  This unique formula promotes a healthy immune system via multiple mechanisms of action.*
Ingredients
Zinc (as zinc citrate) | 15mg
Selenium (as l-slenomethionine)  |  70mcg
NK Maximizer Bioplex™  |  1083mg

Transfer Factor NK+™ (a proprietary super blend of purified colostrum, transfer factors and PRP), Larch Arabinogalactan, IP-6 (inositol hexaphosphate), Shiitake 4:1 Extract, Maitake 4:1 Extract

Macrophage and T-Cell Pro Blend™  |  270mg

Beta Glucan, Astragalus 40% Extract

Healthy Cell GTP™  |  400mg

Green Tea Extract (standardized to 98% polyphenols, 75% catechins, and 40% EGCG), Pomegranate Extract (standardized to 40% ellagic acid)
GMO-free
Suggested Use: As a dietary supplement, take three capsules once daily, with or without food, or as directed by your health care professional.
Cautions: If pregnant or nursing, consult your health care professional before use.
Contains: Ingredients derived from milk.
Manufactured without eggs, fish, crustacean shellfish, tree nuts, peanuts, wheat, soy, corn and gluten. Produced in a facility that may process other ingredients containing these allergens.