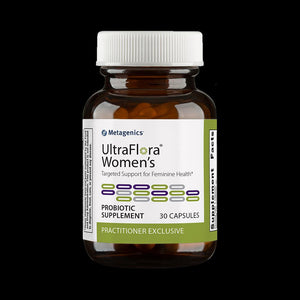 Targeted Support for Feminine Health
UltraFlora® Women's is a unique blend of probiotics taken orally to help maintain a healthy vaginal microflora and support urogenital health. The safety and efficacy of this probiotic combination for women's health is supported by laboratory research and clinical evaluation.
Other Ingredients: Maltodextrin, capsule (hypromellose, titanium dioxide), microcrystalline cellulose, and magnesium stearate (vegetable).
Directions: Take one capsule once daily or as directed by your healthcare practitioner.
This product is non-GMO, gluten-free, and vegetarian.
Storage: For best results, store in a cool dry place or keep refrigerated.