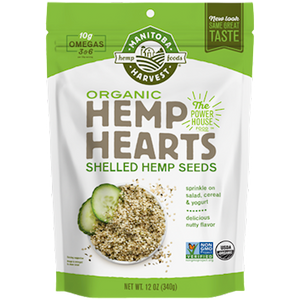 Every serving of these versatile hemp seeds will add 10 grams protein, 12 grams Omegas 3 & 6, and a delicious nutty taste to any meal! Sprinkle Hemp Hearts on salad, cereal, or yogurt, or blend them into smoothies.
Good things come to those who hemp!
Passionate and purposeful in the pursuit of better nutrition, Manitoba Harvest brings you organic Hemp Hearts that deliver a power-packed addition to smoothies, yogurt, salad and more. Manitoba Harvest Hemp Seeds have a soft texture and slightly nutty taste, similar to sunflower seeds or pine nuts. At 10 grams of protein per 30-gram serving, they contain twice the amount of protein compared to flax or chia, and half the carbohydrates, making them the ideal choice for a keto lifestyle.
Hemp seeds are ready to eat right out of the bag! Manitoba Harvest Hemp Hearts offer nutrition seekers a non-GMO, gluten free, vegan, kosher, paleo, and keto way to simply and deliciously add functional value to almost any recipe or meal.
With 40 percent more Omega-3 and Omega-6 fatty acids, and 70% more iron than chia or flax seeds, Manitoba Harvest Hemp Hearts deliver the freshest and highest quality hemp seeds from field to your table. Sprinkle them onto salad, blend them into smoothies, or even try baking with them for added texture and flavor, plus a boost of plant-powered protein.