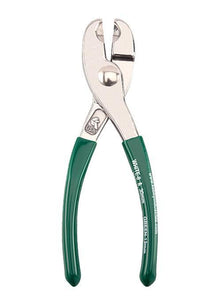 The Kebby Decapper is used for safely removing crimped seals or caps from vials and bottles quickly and easily. Caps are removed in one smooth, controlled motion. Stainless steel construction allows for repeated exposure to chemical and autoclave sterilization without damage. Removable "latex free" cushioned grips provide additional operator comfort. Available sizes include 8mm, 11mm, 13mm, 20mm, and 30mm. Made in USA.
Botox ™ users:
– 50 ml vials require a D-13 
– 100 and 200 ml vials require a D-20
Smooth simple operation allows for quick and easy removal of crimped aluminum seals from crimp vials and bottles.