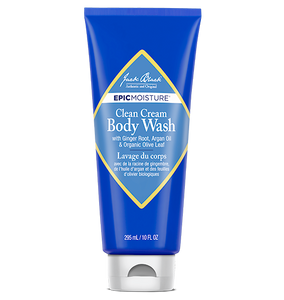 Description
This antioxidant-rich moisturizing body wash thoroughly cleans with no greasy after-feel. Fortified with 7 super hydrating, antioxidant-rich oils plus Shea Butter, Clean Cream is a state-of-the-art body wash that gently, but thoroughly cleans while imparting essential moisture to skin. Aloe Leaf Juice and Organic Olive Leaf helps calm irritated, stressed skin while the fresh, clean aromas of Ginger, Verbena and Lemongrass refresh and invigorate the senses.
What's In It
Argan Oil: Deeply hydrates and provides antioxidant benefits.

Aloe Leaf Juice: A natural emollient with hydrating, softening, and anti-inflammatory properties.

Ginger Root Extract: An anti-irritant and soothing agent with additional skin firming benefits.

Shea Butter: Contains essential fatty acids to hydrate and moisturize dry skin and hair.

Jojoba Oil: Softens, moisturizes and protects the skin through a lubricating, protective cushion.

Bamboo Powder: Mineral rich, eco-friendly granules provide gentle exfoliation.

Natural Bamboo and Pea Peptides: Help minimize the visible signs of aging to improve the healthy appearance of skin.