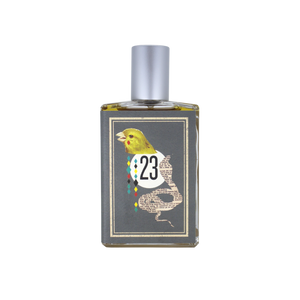 NOTES:
Lemon
Orris
Tobacco Flowers
Leather
Hay Fields
Asphalt
SYNOPSIS: When a tip from a clairvoyant leads 23-year-old Neal Orris to a rural Connecticut barn housing his deceased father's secret obsession, a pristine 1964 Shelby Cobra Roadster, it is the getaway ticket he was desperately searching for. After liberating his best friend Ike from his dead-end job on the family farm, the two hit the open highway. Aiming for the Palm Springs race tracks, their journey is a blur of seedy motels, cool swimming pools, hot debutantes, cocktails, and cigarette smoke. Each stop finds the friends inventing new pseudonyms and personas for themselves, their innocent game hurtling into the depths of decadence and desolation.
WHEN TO WEAR THIS FRAGRANCE: Don this scent on hot, hazy weekdays when you can put your life on hold and enjoy a simple luxury like a fast drive in the country.


Currently, each of our fragrances are vegan.
All of our fragrances contain essential oils, absolutes, isolated molecules, safe synthetic molecules, C02 oils, and resins. We do not use any unlabeled or unmarked mixed blends of oils.
Imaginary Authors is cruelty free & all of our fragrances are free of Parabens and phthalates. 
Our fragrances are all Eau de Parfum or Parfum and suitable for all genders which is why we use the term "Unisex Perfumes" as a blanket description for our line.