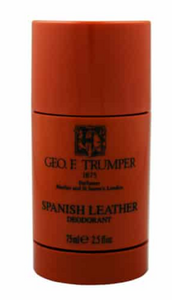 Our glycol based deodorant stick fragranced with the scent of our Spanish Leather Cologne...an unusually deep, rich intrigue glows from the lavish depths of this warm, heady fragrance. Hazy waves of sensual musk combine with the mysterious, woody spicy tones of patchouli, sandalwood and vanilla to make this wonderful scent.
Containing glycerine and Vitamin E our glycol deodorants will not irritate the underarm area or dry out your skin as some Alcohol based products do.
Alcohol and tricosan free.