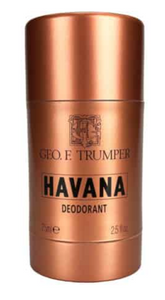 Our Havana Deodorant Stick is glycol based deodorant stick with the enticing fragrance of our Havana Cologne... a fragrance that has been formulated to evoke the swaying and rustling of Cuba's one hundred different palm tree species.
This fragrance possesses delightful notes including layers of pepper, grapefruit, white mariposa, cinnamon, a dash of paprika, and a hint of vetiver; all of which enhances this strong, modern and intoxicating scent 
Containing glycerine and Vitamin E our glycol deodorants will not irritate the underarm area or dry out your skin as some Alcohol based products do.
Alcohol and triclosan free.