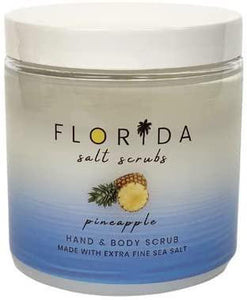 The power of pure mineral rich Atlantic sea salt combined with natural Pineapple creates the original Florida Pineapple sea salt scrub!
For use on: your body, feet and hands 100% all natural Non-greasy Made with Coconut Oil Only salt scrub that is made with mineral rich, Atlantic sea salt ground down to our very specific extra fine grind (preferred by many over Dead Sea).
Natural antiseptic and disinfectant Made with the highest quality all natural ingredients Made with real Key Lime (not to be confused with the common "Persian Lime") Refreshing and natural pineapple scent Leaves skin feeling soft, clean, all kinds of wonderful and rejuvenated Spa approved!
Our salt scrub is the salt scrub of choice for many salons and spas for use in their salt scrub treatments Does not stain clothes Vegan Truly a "must have" by every sink and in every shower Natural wood serving spoon included! A must have for Pineapple lovers everywhere!
Made in United States of America
Ultra-fine pulverized sea salt

Coconut Oil: Nourishes skin with Vitamin E and K, iron and fatty acids

No sulfates, no parabens, no phthalates, no propylene glycol, no mineral oil, no animal testing and no petroleum

Cruelty free

Net Weight 12.1 Ounces (344 Grams). Product Dimensions 2.75 x 2.75 x 3 Inches.