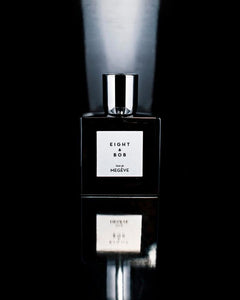 Eight & Bob is a luxury fragrance house whose exclusive scents have been passed down for generations dating back to the 20th century. 

In the 30s skiing was a new-born sport reserved for a much reduced social elite. In those days St Moritz had already become the place to go for the European aristocracy and one of its habitual visitors was Albert Fouquet, creator of the Eight & Bob perfumes. He made interminable journeys there from Paris every winter.
Fouquet had been invited to the home of his friend Nicolas where he was looked after by a charming tailor who went from Megève to Paris every year to visit his best clients and to provide them with custom-made ski clothes for the season. While taking measurements there would be an engaging conversation in which the tailor and Nicolas recounted to Fouquet the delights of Megève. Fouquet already knew that the Baroness Maurice de Rothschild had recently decided to create a ski resort in Megève with more class and greater discretion than those in the Swiss Alps.
Some months later Albert Fouquet was encouraged to accept an invitation from Nicolas to a pre-Christmas dinner he would be hosting in Megève. These dinners organized by Nicolas, whether in Cap Ferrat, in Megève or in his Paris château, were well known and sought after among the high society. The secret of these one-off and memorable parties put on by Nicolas lay in the rigorous selection of their guests: intellectuals, diplomats, businessmen, elegant women, young artists, etc., all having a sufficient degree of vivacity and allure to guarantee a night of enjoyment. On his first day in Megève, having spent a strenuous time on the ski slopes, Fouquet began what was going to be the most magical night he had ever dreamed about. On entering his friend's house, there was his host together with the most beautiful woman he had ever seen. Nicolas did not delay in introducing him to Annicke, a young Austrian who was the daughter of a banker and a Hungarian noblewoman. Reflected in her face was perfection of feminine beauty. Her striking emerald green eyes and her constant smile radiated unparalleled serenity and tenderness. Her height and her deliberate gestures formed part of her natural elegance and her long, black dress set off with discreet jewelry was the epitome of excellent taste.


Nuit De Megeve Eau de Parfum
A perfume that pays tribute to the magical nights of Megève. The smell of the mountain's air and the wood. The spirit of the magical night in Megève all bottled in a splendid perfume with luxury sizes.
TOP NOTES  Clove buds – Grapefruit – Petitgrain
HEART NOTES  Black Coffee – Orris – Tonka Beans
BASE NOTES  Moss – Tobacco – Vetiver