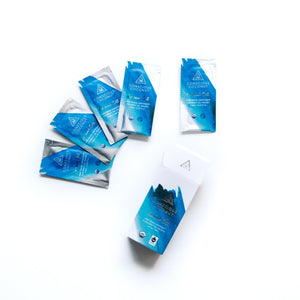 Our Coconut Oil is crafted using the traditional cold-pressed method, without the use of heat, pressure, or machinery. As a result, CoCo is never exposed to any harsh or toxic chemicals. This ensures that it retains its powerful anti-bacterial, anti-fungal, and antimicrobial properties – just as nature intended. Lauric acid, one of CoCo's finest assets, is considered a healthy saturated fat because it is a medium-chain triglyceride (MCT). As an MCT, lauric acid is easily absorbed by the body and is loaded with health benefits. Conscious Coconut also contains Vitamins E and K, which together pack a punch in delivering nutrients to the body, aiding in skin treatment, controlling blood sugar, stimulating hair growth, and for whole body health, just to name a few. Oh, and did we mention it's also travel-ready and packaged beautifully?
For all things itchy, dry, unsightly, or sore, Coconut Oil is our little miracle. From hair care to skin care, sun care to soul care, our favorite oil has you covered. 
100% USDA Organic, Fair Trade Certified™, Virgin, Cold-Pressed Coconut Oil in 5 Travel Packets (7.5 mL each). Each individual Travel-Ready Packet is perfect for when you're on-the-go, in a hurry, or traveling lightly. Bring the benefits of organic, fair trade Coconut Oil with you in single serving form without any hassle. One packet perfectly mixes into your coffee or tea, and is easy to carry along with you wherever you go!