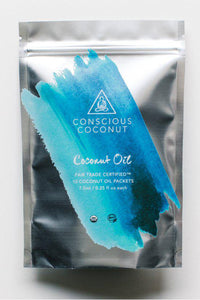 Coconut Oil "Mindful Mini" Pouch 
(10 Travel Packets)
100% USDA Organic, Fair Trade Certified™, Virgin, Cold-Pressed Coconut Oil in 10 Travel Packets (7.5 mL each).
 Keep it Simple
It's resealable, convenient, and designed to simplify. Simplifying the use of Coconut Oil is what we live for. So much so that we have packaged 10 Travel-Ready Coconut Oil Packets with love in one beautiful bag. 
Created with Love 
Conscious Coconut's convenient travel-ready packets are filled with 100% certified organic, fair trade, cold-pressed coconut oil, which means you won't find any artificial ingredients, fillers, fragrances, or unnatural preservatives lurking about. Our coconut oil is made in small batches and never touches a piece of machinery. And we wouldn't dream of touching an animal in the process either.
 QUALITY LIKE NO OTHER: Our Certified USDA Organic, cold-pressed, virgin coconut oil is made in small batches in the Philippines and never touches a piece of machinery.
FAIR TRADE PRACTICES: Our fair trade coconut oil is certified through Fair Trade USA ensuring safe working conditions and just compensation for farmers and factory workers.
DO MORE WITH LESS: Coconut oil is a versatile tool for optimum health, wellness and beauty. In a (Coco) Nut Shell, CoCo is a great multi-tasker because of its medium-chain triglycerides and vitamin E, which have anti-bacterial, anti-fungal, and anti-inflammatory properties.
GIVING BACK: Our products are packaged by adults with developmental disabilities at the MacDonald Training Center in Tampa, Florida. And for EVERY product sold we donate a meal to a child in need through Feeding America.
 The Uses
Toss a packet or two in your purse, backpack, or diaper bag when you're on the go. Coconut oil makes life easy as a makeup remover, shaving cream and moisturizer to name a few uses. For mamas? It's great for baby eczema, diaper cream, and stretch marks. Outdoorsy? CoCo is a game-changer for rashes, bug bites, and sunburns! Please see Our Coconut Oil page for coconut oil uses, benefits & more.