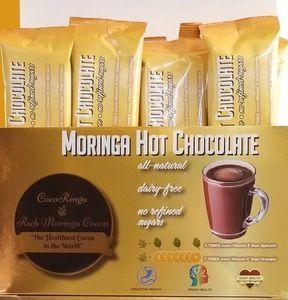 Only 4 Ingredients: Cacao, High Fiber Plant Creamer (Coconut & Tapioca), Oligosaccharide (from chicory root) and Moringa.
CocoRinga is a Multi-Nutrient, Multi-Vitamin, non-Dairy, SuperFood Hot Chocolate made with natural unprocessed  Cacao. Loved by Adults and Kids, Drink Hot or Cold, Add to smoothies, shakes, cakes etc. Contains miracle food Moringa. 
Start your family off right with a cup of the MOST NUTRIENT filled hot chocolate on the market. Children adore it. Adults crave it, and Science approves it! This incredibly tasty and delicious Super Food Hot Cocoa is packed with immune boosting, anti-inflammatory and antioxidant ingredients.  A unique blend of Miracle Food Moringa, High Fiber plant creamer and rich dark Cacao. CocoRinga helps with regularity, digestion, memory, mood, cravings and a host of other health issues. Drink at least 1 cup a day for 14 days in a row and see the difference CocoRinga makes for you.