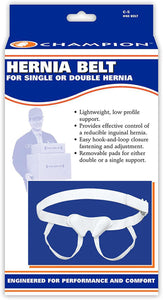 CHAMPION HERNIA BELT for single or double hernia.
The Champion C-5 hernia belt is lightweight and very comfortable to wear. It is designed to maintain an inguinal hernia or rupture in reduction and can be worn with both adjustable pads for a bilateral hernia or with either pad removed for a single hernia.
Use For: Support and control of a reducible inguinal or scrotal hernia
Effective support and control for an inguinal hernia

For single or bilateral hernia - removable pads allow as single support for either right or left side

Adjustable belt maintains position on the body for maximum support

Easy hook and loop fastening and adjustment on both waist band and leg straps
Note - image does not show proper item number.