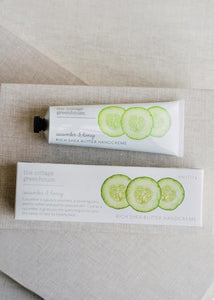 Mother Nature Knows Best
Cucumber is nature's emollient, a sparkling tonic used to soften and soothe stressed skin. Cool as a cucumber, it gives you the quenching boost your skin needs to look its healthy best.
Rich Shea Butter Handcreme
Thick, rich, and positively addicting. Your skin will thank you! Dynamic Duo Avocado Oil & Shea Butter provide the base to our luxurious handcreme. Add to this natural emollients Jojoba Oil & Cucumber Extracts, and you have our irresistible botanic balm that absorbs quickly, soothing even the most demanding dry skin. You are left refreshed and marvelously moisturized.
Key Ingredients
Cucumber Extract
Honey
Avocado Oil
Shea Butter
Jojoba Oil
Aloe Leaf
Macadamia Oil
Good to Know
Paraben Free / Gluten Free / Never Animal Tested / Sulfate Free