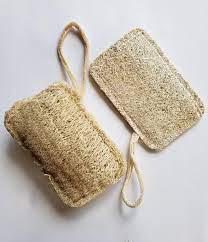 All Natural Loofah Sponge - Bath Sponge or Kitchen Sponge - Zero Waste 

These natural loofah sponges are the perfect bath sponge. A soft yet scrubby loofah, and convenient to hold and hang to dry. These are completely compostable at the end of their life - completely zero waste.

Your loofah will come to you flat. To use, simply soak in warm water for a few minutes to hydrate your sponge, and it's ready to use!
Buy more than one and save!

Made of 100% Natural Loofah
These sponges are made from real loofah plants. Due to the nature of the plant, thickness and coarseness will vary. 

Each sponge measures approx 2 inches x 4 inches.

CARE: We recommend letting the loofah dry out completely after each use. Clean the loofah weekly by soaking it in either a diluted bleach solution OR a diluted vinegar solution for 5 minutes and then rinse thoroughly. Or you can put it in your dishwasher. These loofahs last several months, they do not deteriorate easily. However, in general it's recommended to change them out every month or so.