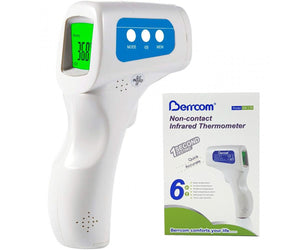 High-precision probe. Collect multiple temperature data in 1 second, the infrared sensor core algorithm gives you accurate and real data.

Upgrade 6-in-1 clinical thermometer. Besides Forehead ( suitable for all ages), it can also test the temperature of the objects(baby milk,food, bath water,etc ) and environment. Suitable for family and hospital.

Quick and Accurate Measurement. The infrared thermometer is equipped with the advanced technoloty and high sensitive sensor, allows you get an accurate reading in 1 second.The range of accuracy is only ± 0.2 ° C (only ± 0.4 °F). Note: To avoid cross-infection, please avoid direct contact with skin.

Multifunction. It features memory function, can record the temperature value of the last 32 times and track the temperture fluctuation. Auto shut-down within 7 seconds to save battery power.

Easy to use. With the LCD display, you can get the measurements within 1s by one-key service easily in the dark without disturbing your baby's sleep, more safer than traditional mercury thermometer.