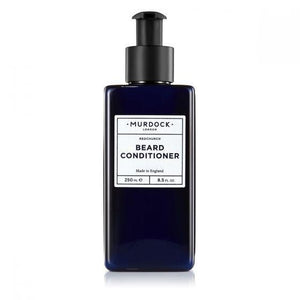 Softens and strengthens for a beard worth showing off.
Change your relationship with your beard using our pH-balanced Conditioner.
Wheat Protein strengthens hair, reducing breakage and promoting shine while Citric Acid maintains a pH Balance better suited for facial hair. This helps to flatten cuticles and leave hair less prone to tangling.
Our unique formula is free of hard detergents and suitable for all facial hair types.
It's easy to underestimate the importance of maintenance whilst growing a beard; so, at Murdock London, we've made it easy to ensure that your beard is in its best possible condition whilst encouraging it to grow to your desired length. Free from chemicals and hard detergents, we have not only considered the condition of your hair but also the skin underneath, making sure that it doesn't get irritated as you wash and groom your beard.
A small amount applied through facial hair and then washed out will really make a huge difference to your beard's overall condition. This is also perfect for any facial hair that is prone to dryness and breakage, strengthening the hair so that it can grow as long and as thick as possible. Be kind to your beard.