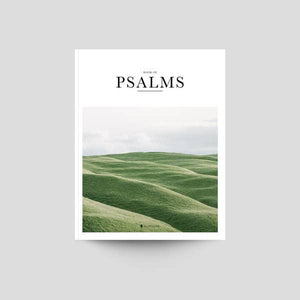 The Book of Psalms: Raw, honest poems telling the story of humans and the desire to know God.
Design aspects: This book is softcover, 232 pages, perfect bound, and printed in full color on uncoated paper in Canada. The dimensions are 7.5 in x 9.5 in. 


A Beautiful Reading Experience
Reading the Bible can feel intimidating. In common Bibles, the text is small and condensed, the pages are thin. Alabaster Bibles combines imagery, design, and craftsmanship into each book of the Bible—to create a visually beautiful reading experience. 


Deepen Your Experience With God
Designing Alabaster Bibles start with an in-depth study of scripture. We explore key themes, historical context, and author intent. We hope our design and imagery deepen your experience with God.


Thoughtfully Designed
Beauty matters in our understanding of who God is. Every aspect of our books is carefully considered. Original artwork from around the world, typography, layout design and negative space are thoughtfully weaved into each book of the Bible. Printed on quality paper using FSC-certified, environmentally friendly practices.