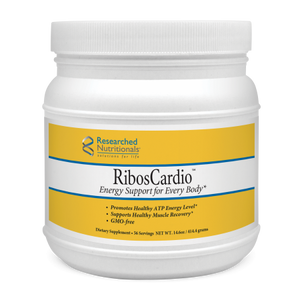 Support for energy production and cardiovascular health*
RibosCardio™ has been formulated, based on Dr. Steven Sinatra, MD's work† with CardioPerform™, a potent blend of L-carnitine (transports fuel into the heart to be burned as energy) and Acetyl L-carnitine (supports heart & brain health), plus D-ribose, malic acid, and magnesium gluconate to optimize energy production and synthesis. Published research shows D-ribose may be an effective adjunct in promoting cardiovascular, skeletal muscle, and neurological health. With heart patients, D-ribose has been found effective in restoring energy, improving ventilatory efficiency, oxygen uptake, stroke volume, diastolic function, physical performance, and quality of life.
Ingredients
Magnesium Gluconate  |  40 mg
D-Ribose  |  5 g
CardioPerform™  |  1 g

Proprietary blend of L-carnitine (from fumarate) and Acetyl L-carnitine

Malic Acid  |  240 mg
Vegan
GMO-free
Suggested Use:  As a dietary supplement, add 1 level scoop (2 1/2 teaspoons) to water or juice and drink twice daily or use as directed by your healthcare professional. For a stronger effect, up to 4 doses may be taken daily for the first two weeks before reducing dosage to twice per day thereafter. For best results, doses should be taken in morning and at lunch.
Cautions: Insulin-dependent diabetics, pregnant women, or patients with elevated uric acid levels should consult their physician before use.