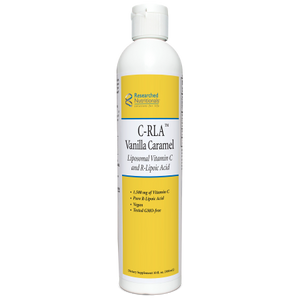 C-RLA™ offers doctors and their patients a safe, efficacious delivery system of High Dose Vitamin C and R-Lipoic Acid in one formulation. Each serving contains 1500mg of Vitamin C and 70mg of R-Lipoic Acid in a natural (GMO-free) liposomal preparation. As most oral Vitamin C doses above 250mg are very poorly absorbed, the only efficacious high dose oral delivery system is via liposomes from natural phosphatidylcholine. Many doctors supplement in-office Vitamin C drips with C-RLA™ so the patients continue to receive the benefit of high-dose Vitamin C without stomach distress. The sunflower-derived phospholipids (a non-soy product for those with soy sensitivities) are GMO-free and 100% vegan.
Lipoic Acid – a vital antioxidant
Lipoic acid helps protect against oxidative stress generated by high glucose levels. Alpha-lipoic acid consists of two different forms (isomers) that have vastly different properties. The "R" form is the biologically active component (native to the body) that is responsible for lipoic acid's phenomenal antioxidant effect. The "S" form is produced from chemical manufacturing and is much less effective. Typical alpha-lipoic acid supplements consist of the "R" and "S" forms in a 50/50 ratio. Pure R-lipoic acid may be 10 times more effective than other forms of lipoic acid and has been called the "mitochondrial antioxidant" because it is a key component of mitochondrial dehydrogenase complexes. The pure R-Lipoic Acid in C-RLA™ supports a healthy inflammatory response and is a potent free-radical scavenger.